Music and dance festivals, water and Light Festivals, exhibitions and fairs showcasing local know-how… All these activities combine to make visitors want to extend their stay.
Festivals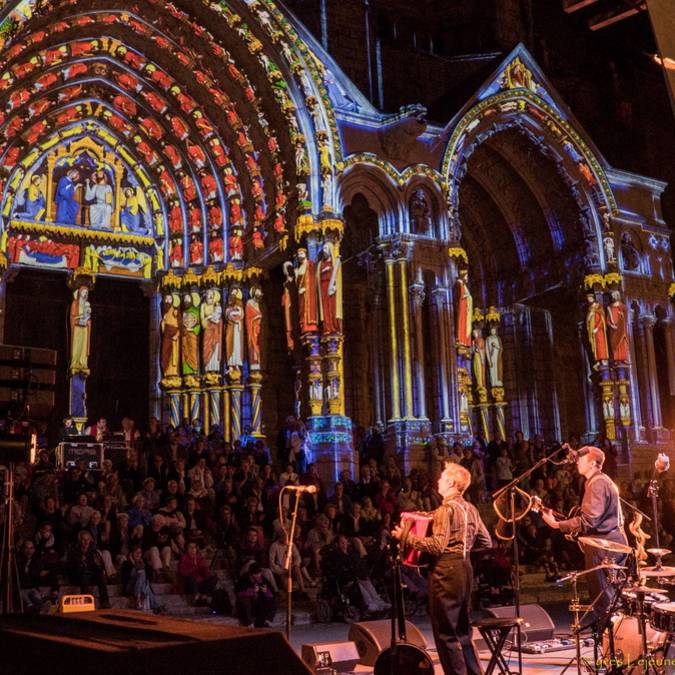 Henri IV Week-end, February 23rd and 24th: "Poule au Pot" menus in the restaurants; bouillon and wine tastings; "Chartres during the rule of Henry IV" theme tour; activities celebrating the memory of Henry IV, King of Navarre, the only king to have been crowned in Chartres, in 1594. Tel: +33 (0)2 37 18 26 26.
Boulevard du graff (graffiti and street art), in March: Demonstration and exhibition, on Chasles Boulevard, and aunctions. Information: +33 (0)2 37 18 47 61.
Open Days of the Stained-glassmakers workshops, April 5th to 7th: Artists and craftsmen of art, painters and sculptors, glassblowers, present their creations and knowhow. Information: +33 (0)2 37 99 93 31.
The market of Loire Wines "Paulée", Sunday, April 7th: This event, which is a showcase for the wines produced around the Loire, provides an opportunity to highlight young winemakers in particular and to taste the wines from the previous grape harvest. Place des Halles 10am to 5pm. Tel: +33 (0)2 37 18 15 15.
"Chartres en lumières" (Chartres light show), from April 27th to October 12th: Every evening from April 27th to October 12th, the heritage of Chartres comes under the spotlight: The cathedral, the bishop's palace gardens, the Hotel Montescot, Place Marceau and Place du Cygne, Saint André Collegiate Church, the Écuyers street appear in shimmering colours and take on new dimensions. Large closing event on September 21st (Festival of lights). Tel: +33 (0)2 37 18 26 26.
"Festival des Clavecins de Chartres" (Harpsichord Event), from May 4

th

to 19th: This harpsichord festival, with its four types of concerts, is a unique opportunity to discover national or even international artists, but also young performers trained in Chartres and the rest of the district by instructors specialized in ancient music. Tel: +33 (0)1 30 59 25 65.
"La nuit des cathédrales" (the night of the cathedral), May 11th: Concerts, shows in the cathedral. Tel: +33 (0)2 37 21 59 08.
Bandstand: from May to September. On the third Thursday of each month, the city's bandstand welcomes groups of dancers onto its stage.
Chartres Solar Cup: late June. Chartres holds a nationwide event that is unique in France, the Chartres Solar Cup. This race between solar-powered prototypes brings around 30 teams together annually to take up the challenge of renewable energy.
Outdoor Cinema: late June. During the summer season, the cinema moves to different spots around town (as a truck).
"Les Soirées Autrement" from June 2nd to August 31st: Numerous events in the Cathedral: "Bible en continu" (bible reading) on Tuesdays; "Vitraux grand format" (stained-glass projection) on Fridays; "Moment Musical" (concert) on Sundays. Free entrance. Open until 10pm. Tel: +33 (0)2 37 21 59 08.
"La Berchéroise", on June 23rd: Walk from the Berchères-les-Pierres quarry to the Cathedral, along the "Chemin des Carriers". Information: +33 (0)6 13 04 63 96.
"Soirées Estivales de Chartres" (Chartres Summer Evening Festival), from June 28th to August 24th: Street and musical entertainment (at 9pm); organ concerts in the Cathedral... 50 free shows and concerts. Organization: ChartrEstivales - Information: Tel: +33 (0)2 37 18 26 26.
Organ and sacred music Festival, July and August: Festival showcasing "Europe's talented organists". Free concerts by renowned musicians, Europe's elite organists, Sundays at 4:15pm in the Cathedral. Free entrance.
"Saint-Fiacre" (medieval event), August 31st: Porte Guillaume. Medieval activities and job demonstrations. Information : +33 (0)2 37 31 46 64.
Fête de la lumière (Festival of Lights), September 21st: Large, popular festival with a special illuminated route through the town and numerous events. Tel: +33 (0)2 37 18 26 26.
"Fête des Vendanges" (Grape Harvest Festival), September 28th and 29th: Chartres invites you to discover popular traditions and agricultural practices from the beginning of 20th century to the present day. Information: +33 (0)2 37 25 69 06.
"Le Légendaire" (Festival of Legends), from October to November: Festival of tales: shows, free events, tours with a storyteller in remarkable places of Chartres and Eure-et-Loir region. Tel: +33 (0)2 37 23 01 99.
"Top in Humour" festival, from November 8th to 24th: An annual event for music lovers interested in discovering fresh new talent, future virtuosos in the world of classical music. This year, the festival will be celebrating its 20th anniversary. Tel : + 33 (0)2 37 35 08 94.
Exhibitions
"Chemin des Arts" (art exhibitions and artists' studio), from March to December
Come and meet artists and discover their work... Three exhibition spaces and a workshop constitue the "Chemin des Arts": Galery of Contemporary mosaics (Saint-Eman Chapel), Saint-André Collegiate Church, Contemporary expressions (Prieuré Saint-Vincent), Contemporary art workshop... Tel: + 33 (0)2 37 23 41 43
"Images et lumière : le vitrail contemporain en France​": until December 31st 2019. International Stained-glass Center. Tel. +33 (0)2 21 65 72
Fairs and shows
Chartres flea market, March: Antique merchants at Chartexpo (Paris road). Tel: +33 (0)6 09 04 93 57
"Artisanales de Chartres" (National show of handicraft), from October 11th to 14th: Demonstration of the handicraft by professionnals and 1000 apprentices in Chartrexpo. Tel: +33 (0)2 37 91 57 00
"Foire de la Saint-André" (Saint André's Fair), November 24th: Town centre. This fair goes back to the Middle Ages.Tel: +33 (0)2 37 23 40 00
Christmas activities, 2 weeks in December: activities and musical shows, town center. Tel: +33 (0)2 37 18 47 60
Flea Market: year-round, on the fourth Sunday of each month. Tel: +33 (0)2 37 23 40 00
Sports
Horse racing, from March to December, at the Chartres racecourse
Tel. +33 (0)2 37 34 93 73
And throughout the year
Numerous events make Chartres a lively city to visit: theatrical quality and musical performances, rich and varied exhibitions. Information available in Chartres Tourist office.
Available information at the Tourist Office of Chartres Urban Area.