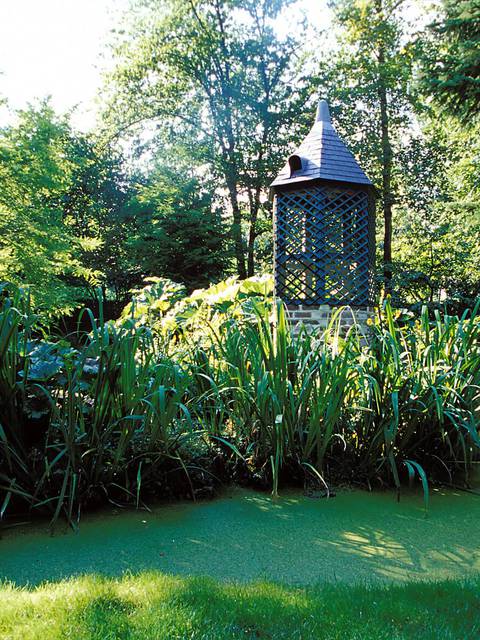 "The Pré Catelan" in Illiers Combray
Created by Jules Amiot (Marcel Proust's uncle) this attractive garden looks over the Loir. It is also home to several little constructions among the plants. Proust used the 'Pré Catelan' as inspiration for Swann's garden in his work.
Free entrance.
Adress: Pré Catelan - 28120 Illiers-Combray

Opening hours: every day from 8.30am to 5.30pm.
The gardens of Castle of Maintenon
We must thank Le Nôtre for the design of the flower-beds and the layout of the park's two walkways, one of which was named after him. The other was named after "Racine", in remembrance of the famous poet who worked at Maintenon on the tragedies "Esther" and "Athalie", which would eventually be played by the young ladies of Saint-Cyr, pupils of the educational establishment founded by the Lady of Maintenon for the poor young ladies of the nobility.

The aqueduct, built by Vauban and La Hire on the request of Louis XIV to bring the waters of the Eure river to Versailles, was originally intended to be on three levels, but was never finished.

Adress: Castle of Maintenon - BP 13016
Tel. +33 (0)2 37 23 00 09 - Fax : +33 (0)2 37 23 00 79
E-mail: chateau-maintenon@cg-28.fr

Opening hours: From April 1st to October 31st from Monday to Saturday from 2pm to 6.30pm, Sundays and Bank Holidays from 10am to 12am and from 2pm to 6.30pm. July and August, every day (except Tuesday mornings) from 10am to midday and from 2pm to 6.30pm. From November 1st to March 31st, Saturdays and Sundays and Bank Holidays from 2pm to 5.30pm. Annual closure: from December 15th to January 15th.
Park of the Abbey of Thiron-Gardais
The beautiful medieval park covers 10 acres and is composed of several gardens with a fishpond.

Price: €5

Address: Jardins de l'Abbaye, Rue de l'Abbaye - 28480 Thiron Gardais